There are seven by-elections on 26th July 2018, and we have something for everyone this week: a city, big towns, small towns, villages, industry, residential areas, farming. There are four Labour seats up for election, one each for the Tories and Lib Dems, and Britain Elects' favourite type of by-election: a free-for-all. There is strong theme of isolation linking many of our visits this week, and fans of the Channel 4 poverty porn series Skint may recognise a location or two. There are also a couple of betting opportunities, if you're that way inclined. Without further ado, read on as we travel to what the Post Office used to call South Humberside…
---
Freshney
North East Lincolnshire council; caused by the resignation of Labour councillor Ray Sutton, who had served since 2011. He is moving away from the district.
Sacha Baron Cohen has a lot to answer for. It's almost twenty years now (God, that makes me feel old) since The 11 O'Clock Show first aired on Channel 4, bringing the character of Ali G to our screens. For the benefit of those who are too young, too old or too uncool to remember Ali G, his shtick was to conduct a series of interviews, like the one above, with public figures and celebrities with the intention of getting them to say or do something stupid. Despite the fact that his victims over the years have included several prominent Americans, including a rather younger pre-political version of Donald Trump, it would appear that the American political class has learned nothing from the Ali G experience. Baron Cohen has been up to his old tricks recently for his new show Who Is America, prompting several prominent politicians and Sarah Palin to try and get their excuses, fake news or outrage in early.
Outrage, fake or otherwise, is of course a reaction which Baron Cohen will be used to. The Kazakh government were distinctly unimpressed with the mauling their country got at the hands of Borat. Closer to home, the town of Grimsby got the treatment in 2016 with the release of a film of that name where Baron Cohen played a football hooligan. Grimsby got poor reviews and was a financial failure; rather like the film, then.
Now, writing negative things about Grimsby is a bit like shooting fish in a barrel. But please don't do that, the town needs the money it can get from processing and selling the fish. This is still an industrial town with all sorts of intractable geographical and structural problems. Together with its twin town of Cleethorpes, Grimsby forms the largest urban area in Lincolnshire; but it's administratively cut off from Lincoln by the fact that it was part of the old Humberside county when that existed. For a location in England Grimsby is surprisingly remote: there is one good road in and out, the notoriously noisy A180 the west, but Hull is more than thirty miles away over the Humber Bridge, Doncaster fifty miles away. The landscape is featureless and the only thing bringing tourist money is the beach at Cleethorpes, which is not the holiday draw it once was. The main industry is fish and fish processing, which is a bit of a problem giving the decline in North Sea fish stocks, the vagaries of the Common Fisheries Policy and the loss of the Cod Wars with Iceland. Other industries are not doing well either: the Tioxide chemical plant, which dominated the seafront on the north-west corner of the town, ceased operation in 2009 and Associated British Ports, who now own the site, are apparently turning it into an enormous car park for vehicle imports and exports. Add all this together and you end up with a town in serious decline, with some of the UK's most deprived neighbourhoods and cheapest property.
The Tioxide chemical plant/car park forms the northern end of Grimsby's Freshney ward. The name comes from the River Freshney, which forms its southern boundary and which emptied into the Humber here until the eighteenth century, when the river was diverted into Grimsby harbour. The ward which the Freshney gives its name to is based on Great Coates, a former village at the western end of Grimsby which was incorporated into the town in 1968 and which has expanded greatly since then. This is a socially divided ward, with the Wybers Wood estate at the south-west end being a very desirable area. If there are any of Jacob Rees-Mogg's upper class living in Freshney ward, that area is probably where they are.
As an electoral unit Freshney ward has unchanged boundaries since 1981, when it was formed as a Humberside county council division. The division and later ward was safe Labour until 2003, since when it has been extremely volatile: in the last fifteen years Freshney has elected councillors from all three main parties and UKIP.
As stated, the fun started in 2003 when the Tories and Lib Dems formed an electoral pact to oust the Labour administration in North East Lincolnshire. It was devastatingly effective: across the district that year Labour had 29.9% of the vote, the Tories 29.8% and the Lib Dems 29.3%, but Labour won only seven out of 42 seats to 16 for the Conservatives and 13 for the Lib Dems. Isn't first-past-the-post wonderful? Three of those Conservatives were elected in Freshney ward, but Labour took two of the Tory seats back in 2004 and 2006.
In 2007 the anti-Labour pact broke down, the Lib Dems started to contest Freshney, and the ward immediately became a very tight three-way marginal. From nowhere in 2006 the Lib Dems gained the remaining Tory seat in 2007 and took a seat off Labour in 2008 for good measure.
The early 2010s were good for Labour, who picked up the Lib Dem seats in 2011 and 2012 – the winner in 2012 was the Lib Dem councillor elected in 2008, who had defected.
But then UKIP made their big breakthrough in Grimsby. The party topped the poll across North East Lincolnshire district in 2014, and won seven of the fifteen seats up for election. That led to speculation that the Kippers could gain the Great Grimsby parliamentary seat in the forthcoming general election; but it didn't work out like that. UKIP instead fell back and Labour held Freshney quite easily in both 2015 and 2016.
But there is one final twist in the tale here. In May's ordinary election the UKIP seat was up and it was duly lost – not to Labour but to the Conservatives, who came from third place to win a seat in Freshney for the first time since 2006. Shares of the vote were 45% for the Conservatives and 41% for Labour. It was one of seven seats the Tories gained in May's election across the district, so the momentum is clearly with them.
Just in case you thought it couldn't get any more interesting, this by-election could be crucial for control of North East Lincolnshire council. Going into the poll Labour and the Conservatives are tied on 18 seats each, with four Lib Dems and an independent holding the balance of power. (UKIP were wiped out in May's election.) Whoever out of Labour and the Tories wins this by-election will become the largest group on the council; and if the Conservatives gain the seat they may seek to oust North East Lincolnshire's minority Labour administration.
So, high stakes. Defending for Labour is Sheldon Mill, an NHS accountant who finished second in Park ward in May's election. The Tories' Steve Holland, a former ship's captain, will be hoping that the recent blue wave in Grimsby will carry him to victory. Also standing are Barry Fisher for UKIP (who returns from May's election), Loyd Emmerson for the Green Party and independent candidate Mick Kiff, who is the only candidate to live in the ward.
You can try and predict the winner with the betting exchange Smarkets: just click here (affiliate link).
Parliamentary constituency: Great Grimsby
ONS Travel to Work Area: Grimsby
Postcode districts: DN31, DN37
Loyd Emmerson (Grn)
Barry Fisher (UKIP)
Steve Holland (C)
Mick Kiff (Ind)
Sheldon Mill (Lab)
May 2018 result C 878 Lab 793 UKIP 180 Grn 83 TUSC 17
May 2016 result Lab 876 UKIP 434 C 386 Grn 68 TUSC 29
May 2015 result Lab 1791 UKIP 1182 C 1133 Grn 136 TUSC 37
May 2014 result UKIP 763 Lab 631 C 394 LD 85 Grn 73 TUSC 32
May 2012 result Lab 1043 C 332 UKIP 332 LD 112 Ind 87
May 2011 result Lab 1011 LD 709 C 469 UKIP 268
May 2010 result Lab 1542 LD 1277 C 1119 UKIP 369
May 2008 result LD 900 Lab 767 C 766
May 2007 result LD 752 C 675 Lab 673 Ind 61
May 2006 double vacancy Lab 969/809 C 936/842
June 2004 result Lab 1005 Ind 857 C 783
May 2003 result C 993/780/755 Lab 737/640/619 Ind 665
May 1999 result Lab 1035/897/821 LD 625/552 C 541
May 1995 result Lab 1476/1354/1267 LD 714/596 Ind 699 C 285
May 1993 Humberside county council result Lab 1155 C 718
May 1989 Humberside county council result Lab 1527 C 1264
May 1985 Humberside county council result Lab 1283 All 857 C 636
May 1981 Humberside county council result Lab 1675 C 955
---
Knowsley
West Lancashire council; caused by the resignation of Labour councillor Michelle Aldridge, who was elected only in May and had served on the council for just six weeks.
For our Northern by-election this week we return to West Lancashire district for the second week in a row, following the Tory hold in Hesketh-with-Becconsall last week. This time we move from the villages to the towns: Knowsley ward is the western of the three wards covering the town of Ormskirk.
A market town since the 13th century (so, unlike Skelmersdale), Ormskirk has strong associations with that important family, the Earls of Derby. Knowsley ward itself ultimately takes its name from the Derbys' country seat and safari park outside Liverpool. Several of the Derbys are buried in Ormskirk parish church (the 7th Earl has his head and body in separate caskets, after he made the mistake of going to Bolton), which is also notable for being the only one in the UK to have both a tower and a spire at the same end. The uncrowned Kings of Lancashire did help to promote the town: the future Edward VII, who knew the Derbys, liked Ormskirk's gingerbread so much he sent orders to the local bakeries. Despite the town's reputation for gingerbread Ormskirk doesn't have a manufacturing sector to speak of (so, unlike Skelmersdale); instead its economy is based on services, students at Edge Hill University whose campus is here, and some commuting to the nearest large city, Liverpool.
This gives Knowsley ward somewhat of a commuter demographic (so, unlike Skelmersdale). It also means it comes under the sphere of influence of Liverpool. Now, Ormskirk as a parliamentary seat may have been represented over the years by such giants of the Labour movement as Harold Wilson and Robert Kilroy-Silk; but the town itself was traditionally Tory-inclined. However, Liverpool and its surrounding districts have swung a mile to the left since the Coalition was formed, and Ormskirk has not been immune from that. From being safe Conservative, Knowsley ward turned marginal in 2010 and has consistently voted Labour since 2012. By 2015 Labour had made it safe, and two months ago Aldridge was elected for her first term with a 51-34 lead over the Conservatives.
We have reached mid-July before getting to the first by-election caused by the resignation of a councillor newly-elected in May, which by recent standards is pretty good going. When UKIP were in their pomp there would normally be a vacancy or two within a week of the count finishing. Defending for Labour is Gareth Dowling, former president of Edge Hill students' union and a former West Lancashire councillor; he was elected for this ward in 2014 but didn't seek re-election in May. This is a good chance for Dowling to get back quickly. The Tories' Jeffrey Vernon returns from May's election, as does Kate Mitchell of the localist party Our West Lancashire; she completes the ballot paper.
Parliamentary constituency: West Lancashire
Lancashire county council division: Ormskirk
ONS Travel to Work Area: Liverpool
Postcode district: L39
Gareth Dowling (Lab)
Kate Mitchell (Our West Lancs)
Jeffrey Vernon (C)
May 2018 result Lab 1014 C 673 Our West Lancs 306
May 2016 result Lab 1063 C 744 Our West Lancs 173 Grn 85
May 2015 result Lab 1512 C 1125 UKIP 316 Grn 188 Our West Lancs 186
May 2014 result Lab 913 C 885 Grn 224
May 2012 result Lab 981 C 711 Grn 161
May 2011 result C 964 Lab 820 Grn 210
May 2010 result C 1535 Lab 1331 Grn 294
May 2008 result C 1003 Lab 357 Grn 211
May 2007 result C 885 Lab 506 Grn 196
May 2006 result C 1062 Lab 409 Grn 225
June 2004 result C 1360 Lab 652 Grn 204
May 2003 result C 730 Lab 415 Grn 145
May 2002 result C 1059/1010/913 Lab 635/541
---
Gurnos
Merthyr Tydfil council, Glamorgan; caused by the resignation of Labour councillor Rhonda Braithwaite who had served since 2012.
Croeso i Gymru. Croeso i Ferthyr Tudful. Croeso i'r Gurnos. By God, Merthyr and the Gurnos get a bad press. The Daily Mail were in town in 2011 reporting that Merthyr had a life expectancy of 58.8 years, lower than Iraq or Haïti. It sounded too good to be true, and it was: the 58.8 years figure related to healthy life expectancy. Rather out of character for the Mail to print something that isn't true, but anyway.
Nonetheless the Gurnos (GEER-noss would be a good English-language phonetic rendering) has long had a reputation as one of the most notorious estates in Wales. Built in the 1950s by Merthyr Tydfil council, and expanded in the 1970s through the building of what is still called the New Estate, the Gurnos lies a mile or two to the north of Merthyr town centre just below the Heads of the Valleys road. It is not a healthy place. In the 2011 census Gurnos division made the top 15 wards in England and Wales for long-term sickness and disability (14% of the workforce). It was also in the top 20 for adults with no qualifications (a staggering 47%), in the top 80 for the ONS routine employment category (15% of the workforce) and in the top 100 for social renting (49% of households). Manufacturing was and remains the main local job source, but the retreat from Merthyr of Hoover (who once employed 5,000 people in the town), Birmingham Small Arms, Lines Brothers toys and other manufacturers, not to mention the mines and steelworks, has taken its toll. According to a Sun report last year a fifth of the Gurnos' population were on benefits. All three of its census districts are in the most deprived 10% in Wales. The largest employer in the Gurnos now is the Prince of Wales Hospital, a small NHS district hospital.
This sort of reputation is a magnet for journalists and TV companies who want to make a quick profit from the sort of poverty porn programmes we have seen in recent years. April 2015 saw the broadcast of the third series of Channel 4's Skint, filmed on the Gurnos shortly after the programme-makers had given Grimsby the same dubious treatment. (As if Grimsby hasn't suffered enough.) The 2017 Sun report made clear that locals were seriously unhappy with how the Gurnos was portrayed in Skint, and pointed to regeneration in the area and a feeling that things have changed for the better on the estate.
Hopefully so. But this is a psephological blog and we have to discuss elections sooner or later. The Gurnos elects four councillors to Merthyr Tydfil council, and since 1999 it has been closely fought at council level between Labour and independent candidates. At the last Welsh local elections in 2017 the Independents and Labour split the Gurnos' four seats equally, with the independents having the upper hand 55-45 in vote terms; the independents gained control of Merthyr council in 2017, so Labour have the luxury of running in opposition here for once. It has been 25 years since anybody other than Labour or an independent contested the division; the last party to try was Plaid Cymru, which stood here in the last Mid Glamorgan county council election in 1993.
Defending for Labour is Allyn Hooper, who is described in his election literature as FROM the Gurnos FOR the Gurnos; in his spare time he is an author writing fantasy, science fiction and horror stories. There are two independent candidates, but the stronger one is local resident Jeremy Davies who was interviewed in the 2017 Sun article; Davies moved to Bridgend a few years ago, didn't like it, and came back to the Gurnos where he is a volunteer at 3GS, the local regeneration and development trust. The other independent candidate is Dillan Singh, who gives an address down the valley in Aberfan. Somehow the Conservatives have managed to find ten people on the Gurnos who are prepared to nominate a Tory, although the party must now be wondering why they bothered; they have had to disown Laurel Ellis for Islamophobic stuff on her Facebook, but it was too late for her to withdraw and she will still complete the ballot paper as the Conservative candidate.
Again, you can try and predict the winner with the betting exchange Smarkets: just click here (affiliate link).
Parliamentary and Assembly constituency: Merthyr Tydfil and Rhynmey
Postcode districts: CF47, CF48
ONS Travel to Work Area: Merthyr Tydfil
Jeremy Davies (Ind)
Laurel Ellis (C)
Allyn Hooper (Lab)
Dillan Singh (Ind)
May 2017 result Ind 659/486/403/368 Lab 541/479/423/421
May 2015 by-election Lab 706 Ind 698 Ind 340
May 2012 result Lab 591/586/496/492 Ind 500/419/417/408
May 2008 result Ind 610/603/481 Lab 489/481/443/383
June 2004 result Lab 567/530/491/457 People Before Politics 432/430/418/372 Ind 253
May 1999 result Ind 743/548 Lab 681/635/619/531
May 1995 result Lab 1020/993/914/888 Ind Residents 256/180
May 1993 Mid Glamorgan county council result Lab 724 PC 163 Ind Lab 37
May 1991 result Lab 946/870/837/804 PC 630
May 1989 Mid Glamorgan county council result Lab unopposed
May 1987 result 4 Lab unopposed
May 1986 result Lab 850 PC 374
May 1984 result Lab 1054/987 PC 705/688
May 1983 result Lab 875/854/850/831 PC 608/595/522/496
---
Birchington South
Thanet council, Kent; caused by the death of Alan Howes, a former taxi driver, at the age of 72. He had served since 2015, and was originally elected for UKIP but had been sitting as an independent.
From the Valleys we move to the coast for the first of our two by-elections in the South East of England. We start in Kent with Birchington-on-Sea, the westernmost of the resort towns on the north Thanet coast; this is the landward of Birchington's two wards. If the Gurnos' problem is low life expectancy, Birchington has the opposite issue: 34% of its population are aged 65 or over and 28% of the workforce are retired. One famous person associated with Birchington who never got to that age was the pre-Raphaelite artist Dante Gabriel Rossetti, who is buried here.
Rossetti's grave no doubt brings some admirers to Birchington; however, another draw to the town now is the collection of the Northumberland Fusilier, African hunter and conservationist Percy Powell-Cotton. His home, Quex House in Quex Park, has been turned into a museum dedicated to his and his daughters' natural history and ethnography collections; the Powell-Cotton Museum is described as one of the oldest dead zoos in the world and, with the Koninklijke Museum voor Midden-Afrika in Belgium still closed for renovation and modernisation, it has a claim to being one of the largest dead zoos in Europe at the moment. The Powell-Cotton Museum is definitely going on the list of places covered by Andrew's Previews which sound so intriguing that I'm going to have to visit at some point.
Brichington is on the Isle of Thanet, which already had local politics of Byzantine complexity before Nigel Farage and UKIP came on the scene. The 2011 Thanet election had returned a hung council; a minority Tory administration was deposed mid-term following defections and by-election losses, and Labour took over with a minority administration of their own. In the 2015 election UKIP rode the coat-tails of Nigel Farage to win a majority on the council from almost nothing: the Kippers had 33 seats to 18 for the Conservatives, just 4 Labour and one independent. Large UKIP council groups have not generally been noted for such boring concepts as cohesion and internal discipline, and so it was in Thanet: the Thanet Kippers have split down the middle, just 13 of the 33 UKIP councillors elected in 2015 are still in the party, and the Conservatives are now in minority control. Those 33 UKIP seats in 2015 included all three seats in Birchington South ward, which in 2011 had returned two Conservatives and an independent: 2015 shares of the vote were 34% for UKIP, 28% for the Conservatives, 19% for the independent slate and 13% for Labour. The ward is part of the Birchington and Rural division of Kent county council, which returned two Conservatives in the 2017 county elections; one of the Tory councillors died later that year and the resulting by-election, held in January, was a very easy Conservative hold.
UKIP are not defending this seat and there is no independent candidate either, so we have a free-for-all. Best placed to gain is the Conservatives' Linda Wright, a retired dental practice manager and former Thanet councillor for the neighbouring Thanet Villages ward, which she represented from 2011 to 2015. She presently sits on Birchington-on-Sea parish council. The Labour candidate is Helen Whitehead, a former school deputy head who, as a sufferer of Ehlers-Danlos syndrome and spinal arthritis, is campaigning hard on health and disability issues. Completing an all-female ballot paper is RAF veteran Hannah Lloyd-Bowyer, standing for the Liberal Democrats.
Parliamentary constituency: North Thanet
Kent county council division: Birchington and Rural
ONS Travel to Work Area: Margate and Ramsgate
Postcode district: CT7
Hannah Lloyd-Bowyer (LD)
Helen Whitehead (Lab)
Linda Wright (C)
May 2015 result UKIP 1348/1277/1273 C 1091/1056/923 Ind 767/581/302 Lab 520/518 LD 221/187
May 2011 result C 1171/1079/900 Ind 1023 Lab 499/433
May 2007 result C 1106/968/890 Ind 819 Lab 317/310/286
May 2003 result C 1133/996/924 Lab 452/409 Ind 448/370
---
Fawley, Blackfield and Langley
New Forest council, Hampshire; caused by the death of Conservative councillor Bob Wappett who had served since 2007.
For our second South East by-election we have struck oil. This ward covers the south bank of Southampton Water at the point where it meets the Solent; a sparsely-populated area rather cut off from the rest of Hampshire by Southampton Water, over which there is no bridge or other crossing. That sense of isolation might have been appreciated by the inhabitants of the remote South Atlantic island of Tristan da Cunha, who were evacuated here in the wake of the volcanic eruption of 1960.
The Tristanians ended up in an RAF base at the village of Calshot, on a promontory which marks the southern end of Southampton Water. This is an obvious strategic military point, and Calshot was fortified in 1539 on the orders of Henry VIII; Calshot Castle, and the RAF flying boat base which developed next to it in the early twentieth century, remained in military use until 1961 when the Tristanians moved in. The castle is now open to the public. Calshot is part of the New Forest National Park, as is the Lepe Country Park on the Solent Coast.
Have I fooled you into thinking that is a country paradise? Well, that bit is only half of the ward. This is one of Hampshire's most industrial wards thanks to the presence of the Fawley Refinery. This has been going since 1921, when it was founded on a sparsely-populated site on the shore of Southampton Water. It was a good location, as the seawater was important for the refining process while also allowing crude oil tankers to supply the site directly; in addition, ocean liners and other ships sailing from Southampton could simply cross the water for refuelling. Now in the hands of ExxonMobil, Fawley is the largest oil refinery in the UK. processing up to 270,000 barrels of oil a day. It employs 2,300 people, and those jobs propel Fawley, Blackfield and Langley into the top 60 wards in England and Wales for apprenticeship qualifications and the "lower supervisory, technical" occupation group.
Despite all that industry Labour are not organised here. Fawley, Blackfield and Langley ward voted Lib Dem in 2003 but was gained by the Conservatives in 2007 and now looks safe Tory. In 2015 the Conservatives polled 43% here to 31% for UKIP and 14% for the Lib Dems; the ward is part of the South Waterside county division which is safely Conservative.
UKIP have not contested this by-election providing us with a straight fight. Defending in the blue corner is Merv Langdale, a Fawley parish councillor; challenging from the yellow corner is Craig Fletcher.
Parliamentary constituency: New Forest East
Hampshire county council division: South Waterside
ONS Travel to Work Area: Southampton
Postcode district: SO45
Craig Fletcher (LD)
Merv Langdale (C)
May 2015 result C 1551/1402 UKIP 1118 LD 519/334 Lab 452
May 2011 result C 1417/1215 LD 671/591
May 2007 result C 1061/974 LD 777/698
May 2003 result LD 1011/921 C 680/584
---
Stoke
Plymouth council, Devon; caused by the resignation of Labour councillor Philippa Davey, who is taking up a new role as a special constable with Devon and Cornwall Police. She had served since 2011.
We travel to the South West, to the largest city in Devon and the most isolated city in England. Stoke Damerel is located in the west of Plymouth, roughly occupying the area between the city centre and Devonport dockyard; Devonport railway station lies at the western end of the ward, Plymouth intercity railway station just off the eastern corner. This area was mostly built up by 1900 and has an unusual tenure pattern, with large amounts of private renting.
Stoke ward, like Plymouth as a whole, is closely fought between Labour and the Conservatives. The Tories carried the ward from 2006 to 2010, but Labour are now in the ascendancy in Stoke as they are across Plymouth. The Labour party gained control of Plymouth city council in May's election, and in Stoke ward they beat the Conservatives in May by 53% to 33%.
So there are good reasons for Labour to be confident about this poll. Their defending candidate is Jemima Laing, a freelance writer, former solicitor and former BBC journalist who fought Moor View ward in May's elections. Laing has had the big guns out working on her campaign: her sister-in-law, Wirral councillor Gillian Wood, reportedly travelled here all the way from Birkenhead to help out. The Tory candidate is Kathy Watkin, another ex-solicitor who has recently retired; she fought the ward in May's ordinary election. The ballot paper is completed by Liberal Democrat candidate Connor Clarke, and by Iuliu Popescu, who fought Drake ward in May for the anti-Islamic For Britain Movement; Popescu is now standing for a new party, Active for Plymouth, which is fighting its first election campaign.
On a personal level, I cannot resist a shoutout to Plymouth councillor Jonny Morris, who as well as being the Labour election agent here is one of Andrew's Previews' most diehard fans. If your life is missing a bit of animal magic, Jonny Morris can rectify that: he runs the highly-recommended Twitter account "Pets for Labour" which proves yet again that the internet is made of cats. As can be seen, Morris' own "special adviser" Max has been hard at work on the campaign…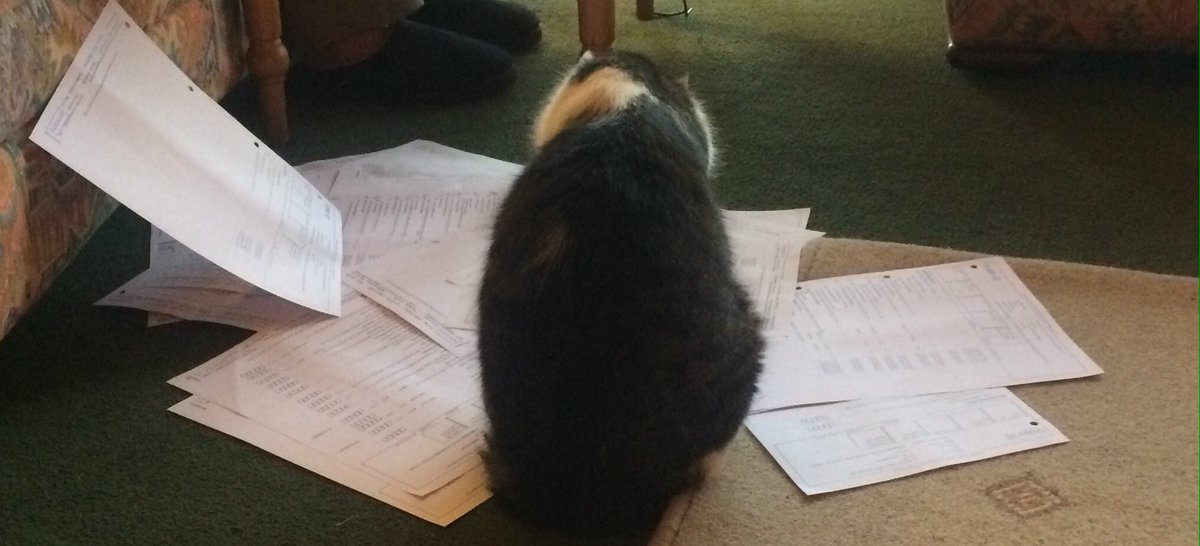 Parliamentary constituency: Plymouth Sutton and Devonport
ONS Travel to Work Area: Plymouth
Postcode districts: PL1, PL2, PL3, PL4
Connor Clarke (LD)
Jemima Laing (Lab)
Iuliu Popescu (Active for Plymouth)
Kathy Watkin (C)
May 2018 result Lab 1915 C 1219 Grn 186 LD 184 UKIP 143
May 2016 result Lab 1645 C 964 UKIP 506 LD 209
May 2015 result Lab 2299 C 2150 UKIP 930 Grn 637 LD 298 TUSC 63
May 2014 result Lab 1333 C 814 UKIP 802 Grn 333 Ind 279 TUSC 55
May 2012 result Lab 1602 C 1205 UKIP 443 LD 197
May 2011 result Lab 1875 C 1492 UKIP 520
May 2010 result C 2030 Lab 1880 LD 1335 UKIP 542 Grn 209
May 2008 result C 1500 Lab 1014 LD 382 Grn 347
May 2007 result C 1459 Lab 1182 LD 595 UKIP 223 Grn 217
May 2006 result C 1358 Lab 1232 LD 552 Grn 338
June 2004 result Lab 1259 C 915 UKIP 653 LD 504 Grn 230
May 2003 result Lab 1128/1045/1007 C 935/926/877 LD 506/469/422 Grn 287 Plymouth Party 178/170
---
Hartland and Bradworthy
Torridge council, Devon; caused by the resignation of Liberal Democrat councillor Jane Leaper, who had served since winning a by-election in June 2017.
From the south-west corner of Devon we travel to the north-west corner. The very north-west corner of Devon is Hartland Point, a 325-foot cliff marking the point where the Bristol Channel ends and the Atlantic Ocean begins. The point has been important to navigation since the days of the Romans: it appears on Ptolemy's world map under the name of "Hercules Promontory", and there is a lighthouse and air traffic control radar station atop the cliff.
Inland from the point lies the village of Hartland, which until Tudor times had an important harbour on the south side of the point. This has been a holy place since ancient times, when a cult grew up around the shrine of St Nectan of Hartland, who died here around AD 510; around 1050 Gytha, countess of Wessex (and mother of Harold Godwinson, who would later become the last Saxon king of England), founded a church at Stoke-by-Hartland dedicated to St Nectan. This was replaced in the fourteenth century by a grand church in the Gothic style which claims to have Devon's tallest church tower. Mary Norton, author of The Borrowers, is buried here. Hartland is also important to science: the British Geological Survey maintain a magnetic observatory at Hartland, which makes continuous measurements of the strength and direction of the Earth's magnetic field. Further to the south-east, around the northern end of Cornmwall, is Bradworthy which claims to have England's largest village square.
Remoteness has been a bit of theme in Andrew's Previews this week, but they do not get much more remote than this particular corner of England. That's reflected in the ward's census return, where Hartland and Bradworthy is in the top 25 wards in England and Wales for the "small employers, own account" occupational group and in the top 30 for self-employment. It's also reflected in the ward's election results, which tend to be personality-driven rather than party political. In party political terms, the ward elected two independent councillors in 2003 without a contest; the Lib Dems gained one seat in 2007 and the other in 2011, but then didn't contest the 2015 election which elected an independent (on 49% of the vote) and a UKIP candidate (on 26%); the Greens (who had the other 25%) narrowly missed out. The UKIP councillor died last year, and the resulting by-election – held on the snap general election day – was bizarrely a straight fight between the Lib Dems and the Green Party, the Lib Dem candidate Jane Leaper prevailing 57-43. Leaper has now resigned, prompting the second Hartland and Bradworthy by-election in as many years. The Conservatives hold the two local county council seats, Holsworthy Rural (which covers Bradworthy) and Bideford West and Hartland; the latter was a gain from UKIP in 2017.
Goodness knows what's going to happen here. Defending for the Lib Dems this time is Martin Hill, a parish councillor just to the east in Woolsery (or, if you prefer the alternative spelling, Woolfardisworthy). The other two candidates are both from Bradworthy: parish councillor John Sanders returns for the Green Party after contesting last year's by-election, while the Bradworthy parish council chairman Richard Boughton has entered the fray with the Conservative nomination.
Parliamentary constituency: Torridge and West Devon
Devon county council division: Bideford West and Hartland (part: Hartland and Welcombe parishes), Holsworthy Rural (part: Bradworthy parish)
Postcode districts: EX22, EX23, EX39
Richard Boughton (C)
Martin Hill (LD)
John Sanders (Grn)
June 2017 by-election LD 973 Grn 720
May 2015 result Ind 1114 UKIP 598 Grn 567
May 2011 result LD 494/473 C 401/245 Ind 271 UKIP 188 Grn 177
May 2007 result LD 657 Ind 598/363 UKIP 245 Grn 195
May 2003 result 2 Ind unopposed